Pompano Beach's
Metal Roof Replacement Roofing Team
Knowing when you should repair or replace your metal roof is crucial. Because of the fact that they have a huge gap in terms of pricing, it's also going to take more effort to replace than to repair. On the other end of the rope, repairing something that's already beyond repair is just a waste of money.
So how do you actually know when the perfect time is for a Metal Roof Replacement service? It's hard to know, in fact, even other Metal Roofing Contractors, especially new ones, don't have a formula on how they can find and figure out when the best and the perfect time is for a replacement. The usual tips would include looking at the shingles, the panels, if there are any leaks, etc. Those are general tips. Although there are some of them that actually make sense.
Do You need a Metal Roof Replacement?
Property owners ask themselves this question every single time they feel something not right with their roofs. The perfect time for a Metal Roof Replacement is actually not just a single scenario; it's a series of things that you can notice with it.
Some of the things that you can actually consider as signs include:
Many people have the misconception that the color of the roof is only for design and style purposes. What they don't know is that it actually plays a role on the resistance and the overall efficiency level that the roof has. Therefore, if it's already discolored; or if the color that it's currently at is far from what it was originally, you might want to ask for the opinion of an expert and a seasoned Metal Roofing Contractor. The colors of the roofs can give you signs and signals, not just for style and designs; so, by knowing which is which, you can actually find it easier and a lot better whether if you need is a repair or a replacement.
Are you experiencing any types of leak marks on the walls of your property or on the ceiling? What does this mean? For most people, it only means a hole or a puncture on the wall. In reality, however, it may mean something much more serious than that.
If you're having leaks within your property, it might mean that your roofs are already damaged so severe that water penetrated some of the components of your roof that should have not have been. Therefore, if you see leaks or any other type of inconsistency within your roofing system, a replacement service might be what you are in dire need of.
Now this one is easy if you have been the first and the sole owner of the house. Otherwise, you would need to ask the previous owner about this information. Usually, Metal Roofs last for up to 60+ years. However, there are some cases that it lasts just for 40+ years because it never received any type of maintenance since the day it was installed. So, knowing when the timing is, is actually one of the best and the most effective methods in finding out whether or not it's already time for a Metal Roof Replacement.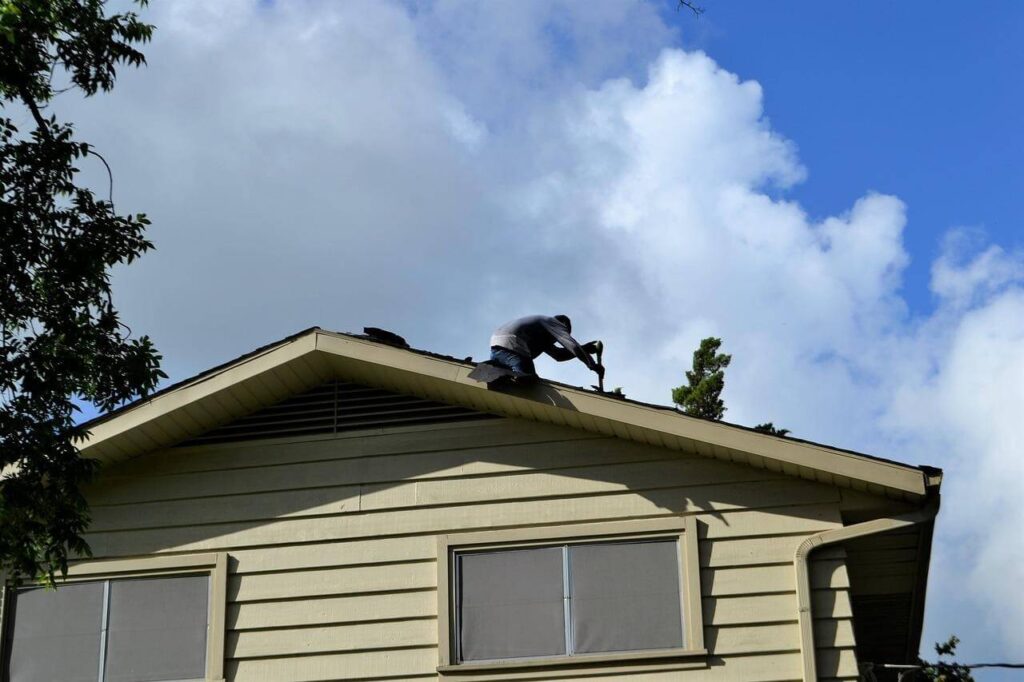 Our Free Quote and Free Roof Inspection Facility
Free Roof Inspection
The Free Roof Inspection Tool that we have on our website is perfect for finding out if you already need a Metal Roof Replacement, or if a Metal Roof Repair would do. It's a comprehensive tool that has been helping clients from all across the city to find and figure out what specific service they really need for their roofs.
Errors in these services are rampant, especially because most property owners are not skilled and knowledgeable to checkup and assess the quality and the condition of their roofs.
With our Free Roof Inspection facility, it's going to be easy for you to find and figure out what exact service you need. Whether you just need a regular repair for your metal roofs, if you need a heavier service of Re-Roofing or Retrofitting, or if you need the comprehensive Metal Roof Replacement.
Free Quote
Apart from the inspection, we can also give you a free estimate of how much budget you would need for the replacement!
What We Check-in Our Inspection
Most people don't get the fact that we perform an overall assessment of the roofing system of our clients. In fact, we check everything from the complete structure of the roof, down to the most specific and accurate things such as the underlayment, the flashing, the ventilation, the ice and water shields, and many more.
And when it comes to inspecting, we deploy and send out the best and the most qualified Metal Roofing Inspectors that we have on our team.
Pompano Beach Metal Roofing Installation & Repair Team will really be the only company you will ever need for all the Metal Roofing Services that you need. Using the Free Roof Inspection tool that we have on our website, you won't have to find out for yourself which specific service you would need.
So, for all the Metal Roof Replacement Service that you are in dire need of, you can absolutely give us a call or send us an email, detailing the specific service that you want. Contact us today and we will be more than happy to help you with whatever Metal Roofing Service you might need.
Work with the best and experience world-class quality and premium services at the prices and rates you will never be dismayed or disappointed to pay for.
Work With Pompano Beach Metal Roofing Installation & Repair Team!
If you ever find yourself in need of a Metal Roofing Contractor that you can fully trust and bank on when it comes to whatever service you need, never hesitate to give us a call or to send us an email!
Wherever your location might be in the whole city of Pompano Beach, Florida, you can expect our services to cover everything that needs to be covered. Don't waste time! Contact us now and get the best and the highest quality of Metal Roofing you can get at the lowest and the most affordable rates you can get them for!
Leave out all other companies and contractors and experience premium quality services with us at Pompano Beach Metal Roofing Installation & Repair Team
Time to Replace Your Roof? We Can Help
Considering roofing replacement? When it comes to roofing projects, many homeowners rely on professionals to get the job done. At Pompano Beach Metal Roofing Installation & Repair Team, our specialists stick to all the industry standards when installing metal roofing on both residential and commercial properties. Therefore, you can be sure of getting a sturdy roof on top of your house. As a result, you can get the best services from our company in the following fields;
What Locations do we Serve?
---
Pompano Beach Metal Roofing Installation & Repair Team is a name you can trust and rely on. Our metal roofing services were limited in Pompano Beach, FL when we started. But with time our company has expanded and is now serving over ten locations within Florida.
It shows how reliable we are. Here are some places within Florida, where you can access our world-class metal roofing services: –