Pompano Beach's
#1 Residential Metal Roofing Contractors
One way to efficiently and effectively care for your home or any other residential property is to ensure that the quality of roofing is on point. In case you're wondering, the roof is actually the most relevant part of your home when it comes to protection and security.
It's the first layer that secures you from whatever's outside your property, and it's also what can protect you from the weather. So, if you care for the overall condition and status of your home, you should consider going with Metal Roofing.
What You Need to Know With Residential Roofing
Residential roofing used to be simple – a few slates of asphalt shingles, even clay tiles and you're good to go; it's as easy as that. However, through the years, the weather hasn't been at its best, forcing homeowners to switch to Metal Roofing for their residential properties and estates.
Metal Roofing has been widely and globally accepted as the best, the most durable, and the most refined type of roofing system, thanks to all the advantages and the benefits that it gives property owners.
Whether it's for a New Construction, or if your currently existing property is in need of a repair or a replacement – or even a Re-Roofing or a Retrofitting service, using Metal Roofs would be the most ideal.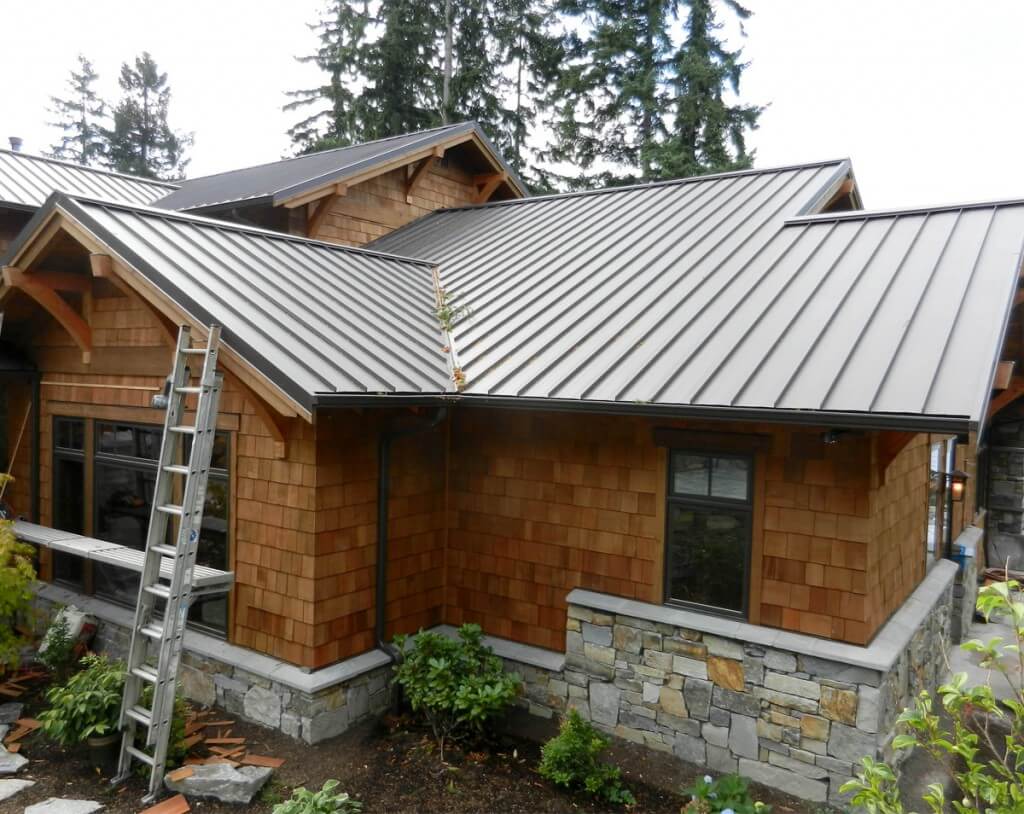 Homeowners on Metal Roofing Systems
The wide majority of homeowners who have Metal Roofing Systems as their roofs actually say that they've been enjoying it more and better because of the protection, security, and the overall capacity that it has over clay tiles and asphalt shingles.
In fact, the testimonials that they let out always revolve around these points:
What We Offer
Pompano Beach Metal Roofing Installation & Repair Team is capable of helping you out with whatever Residential Metal Roofing Service you need. Whether you need a Corrugated Metal Roof Installation and Replacement, a Standing Seam Metal Roof Installation or Replacement, even Metal Tiles & Metal Shingle Installations and Replacements!
Those are just some of our best sellers for the residential market; we have and we offer a lot more! For you to be able to view the full and complete list of services that we can help you with, you'll be able to find it on our website in the Main Services tab/option.
When it comes to Residential Metal Roofing Systems, you will never feel any shortage of skill, knowledge, and professionalism when you choose to work with us here at Pompano Beach Metal Roofing Installation & Repair Team.
Reach Out to Us
You can ring us up by dialing our hotline or by sending us an email. Doing so will direct you to one of our representatives to help you with whatever your concern is. Experience the best and the highest quality of Residential Metal Roofing in Pompano Beach without paying for an extravagant fee.
Work with the best and experience premium quality services, only here at Pompano Beach Metal Roofing Installation & Repair Team!
Work With Pompano Beach Metal Roofing Installation & Repair Team!
If you ever find yourself in need of a Metal Roofing Contractor that you can fully trust and bank on when it comes to whatever service you need, never hesitate to give us a call or to send us an email!
Wherever your location might be in the whole city of Pompano Beach, Florida, you can expect our services to cover everything that needs to be covered. Don't waste time! Contact us now and get the best and the highest quality of Metal Roofing you can get at the lowest and the most affordable rates you can get them for!
Leave out all other companies and contractors and experience premium quality services with us at Pompano Beach Metal Roofing Installation & Repair Team
Time to Replace Your Roof? We Can Help
Considering roofing replacement? When it comes to roofing projects, many homeowners rely on professionals to get the job done. At Pompano Beach Metal Roofing Installation & Repair Team, our specialists stick to all the industry standards when installing metal roofing on both residential and commercial properties. Therefore, you can be sure of getting a sturdy roof on top of your house. As a result, you can get the best services from our company in the following fields;
What Locations do we Serve?
---
Pompano Beach Metal Roofing Installation & Repair Team is a name you can trust and rely on. Our metal roofing services were limited in Pompano Beach, FL when we started. But with time our company has expanded and is now serving over ten locations within Florida.
It shows how reliable we are. Here are some places within Florida, where you can access our world-class metal roofing services: –